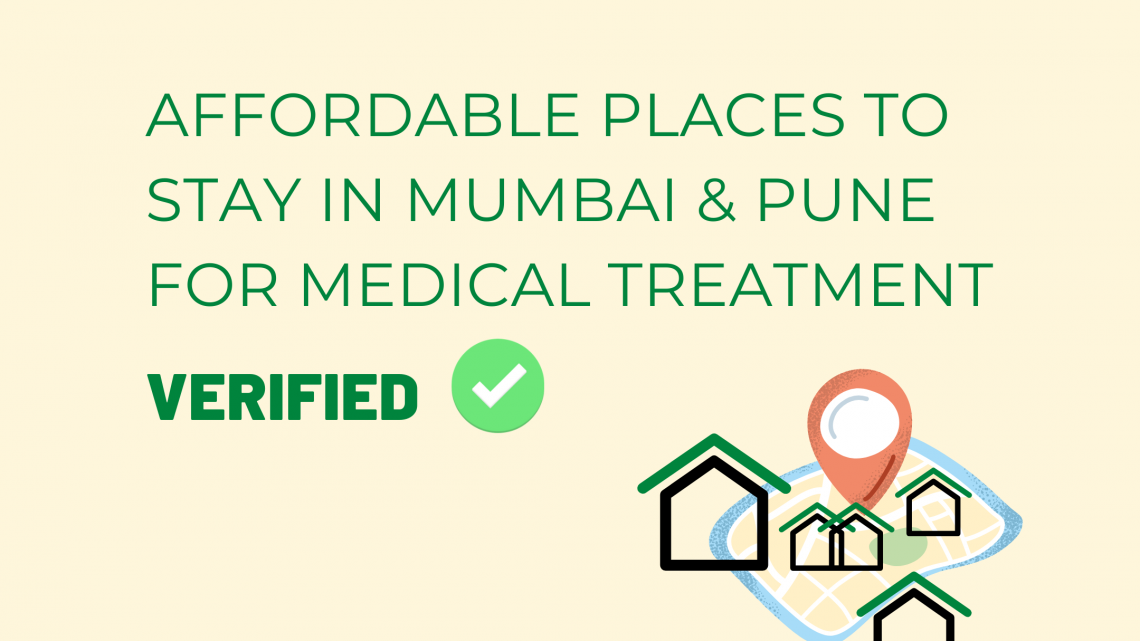 AFFORDABLE PLACES TO STAY IN MUMBAI & PUNE FOR MEDICAL TREATMENT
If there is a problem, there is a solution. Says history! First there is the problem. Then the problem of finding possible solution/s for the problem. And when a solution is found, there is still the problem of implementing the solution. All the three problems are commonplace in every aspect of life and business.
Suppose you buy a new shiny phone with high-end features, and you want to transfer data from your old phone to the new phone. So, you read the manual or google for instructions or watch a YouTube video. And bingo! Data is transferred from the old to new phone before the sun sets over the horizon. Not all problems however have clear and instructible solutions. Some problems might persist because the solution/s is either too complex or time-consuming. In the larger view, with several interplaying factors, it might be both. The problems of the healthcare sector are no different- interdependent aspects mar solution effectiveness and decision making. And until a 'good' solution is found we can find and help others wherever and whenever possible.
In 2017, we were one of the thousands who travelled to Mumbai for treatment. Bombay Hospital is in South Mumbai and given the size of the city and time taken to travel across its length and breadth staying with relatives was not an option. So, we sought accommodation in a dharamashala, approximately 2 kms from the hospital. But there was a problem. Dharamshalas generally do not allow guests to stay for more than 15 days. Hotels are expensive and so is the food. We shifted base twice until we found accommodation exactly opposite the hospital, at a house run as a philanthropy by a businessman in Rajasthan. 
'No place to stay' is a common woe of the large number of people travelling to tier-1 cities for medical treatment from far-away places.  
What would an ideal accommodation for patients and families be like?
Affordable – to divert available funds to treatment
Convenient location – accessible by foot or public transportation
Clean and hygienic area – most necessary to ward of infection
Food – home-like, economical, hygienic,
Recreation – definitely a bonus
Good and affordable accommodation is a concern for anybody traveling to a different city for medical treatment. But let that not be a deterrent. Here is a verified list of affordable places to stay in Pune and Mumbai during treatment. The contact numbers and other details are valid and functional as of the date of publishing this post. 
1. Apnaa Ghar
Location: Mumbai
Address: 33, Keshar Baug Building, Naigaum, B J Devrukhakar Road, Dadar East, Mumbai – 400014
Contact: 022-2414 0010 / 9155470147 (Tannu)

2. Bharat Sevashram Sangh
Location: Mumbai
Address: Plot No 263, Swami Pranavanandaji Marg, Vashi Village, Sector 31-A, Vashi, Navi Mumbai, Maharashtra 400703
Webpage: https://www.bharatsevashramsangha.org/activities/healthcare-services/
Contact: 022-27811327

3. Chetana Foundation (Bombay mother and charitable society)
Location: Mumbai
Address: B 31 BDD Chawl, Near N.M.Joshi marg Police Stn.
Contact: 022-23088942
*Only for cancer patients

4. Damodar Madhoji Charitable Trust
Location: Mumbai
Address: Damul Nws,1St Floor,Road No 32, Bhulabhai Desai Road, Mahalaxmi Mandir, Mumbai-400026
Contact: 022-23529618

5. Gadge Maharaj Dharmashala
Location: Mumbai
Address: 1/33, Dada Saheb Falke Road, Dadar Cross Lane, Dadar East, Mumbai – 400014, Near Ranjit Studio
Contact: 022-24111496 / 9371919006 /022-2411 3604
*Only for cancer patients of Tata Memorial Hospital
6. Maharashtra Guest House
Location: Mumbai
Address: Near Parel Flyover, Dr.B.A.Ambedkar Road, Parel
Contact: 022-24147987/022-24113604
*Only for cancer patients

7. Nana Palkar Smruti Samiti
Address: 158, Rugna Seva Sadan Marg,Parel, Mumbai 400012
Contact: 022-24172167 /022-24186724 /022-24164890
Webpage: https://www.npss.org
Email: nanapalkar15@gmail.com
*Only for cancer patients
8. Narayanwadi Dharmashala
Location: Mumbai
Address: 86/88 Narayanvadi Trust, B P Road, Cawasji Patel Tank, Mumbai – 400004, Near Desai Bhaishankar
Contact: 022-23857065
9. Shraddha Foundation, Shelter Home
Location: Mumbai
Address: Golanji Hill Road, Near Thakre Udyan, Sewree Bus Depot
Contact: 9833204676
Webpage: http://www.shraddhafoundation.org.in/index.html
10. Sheth Morarji Bhagwandas Shivaji Sanitorium
Location: Mumbai
Address: 59/B, Walkeshwar Rd, Krishanaraj Society, Walkeshwar, Malabar Hill, Mumbai, Maharashtra 400006

Contact: 022-2369 0536
11. Sou Kusum and Shri Jindatta Shah Welfare Foundation
Location: Pune
Address: 306, Sai Krupa Apartment, Somvar Peth, near Hanuman mandir, Pune 411011
Webpage: www.kjwf.org (online bookings accepted)
Email: kjwforg@gmail.com
Contact: 9970000053
*Only for Jain patients & families
---
Please keep this list at the back of your mind and share with anyone who needs it. This might be especially useful for financially-stretched families- whoever you can think of. If you come across other such place/s please leave its details in comments below or email me.
I am thankful to Mr. C. Pavaskar sir, volunteer at TMH, Mumbai for helping me compile this list.