CROWDFUNDING: A SUCCESSFUL CAMPAIGN & THE INDIAN SCENARIO
Homo sapiens, that is us, the self-proclaimed powerful species has a thirst for constancy- outlive the dangers to its survivability factor. Dangers created as ancillaries to the species' greed for progression.
This need for survival is the mainspring for alternatives. Since ages unknown we've had alternative medicine – to treat and cure seemingly difficult diseases with a poor prognosis. Since year 1997 we've had crowdfunding as an alternative source of finance. In 1997 a British rock band funded their reunion through online donations from fans. In 2000, ArtistShare stirred further the phenomenon by building a dedicated platform.  Since then crowdfunding has revolutionized optimism in seeking financial help for business, medical and creative purposes.
This post is about crowdfunding, its types, the different platforms, the Indian scenario and what a successful campaign means to its beneficiaries.
WHAT IS CROWDFUNDING?
As defined in the post on FINANCE OPTIONS FOR MEDICAL EXPENSES IN INDIA – PROS & CONS, crowdfunding is the practice of funding a project or venture by raising small amounts of money from a large number of people, typically via the Internet.
CROWDFUNDING MODELS, CAUSES & PLATFORMS
Most people think that crowdfunding platforms are donation –based for providing financial aid to health-related campaigns. Contrarily, a crowdfunding platform is the most versatile source for generating funds to finance not only medical treatments but business ventures, hobbies, adventures and even sports.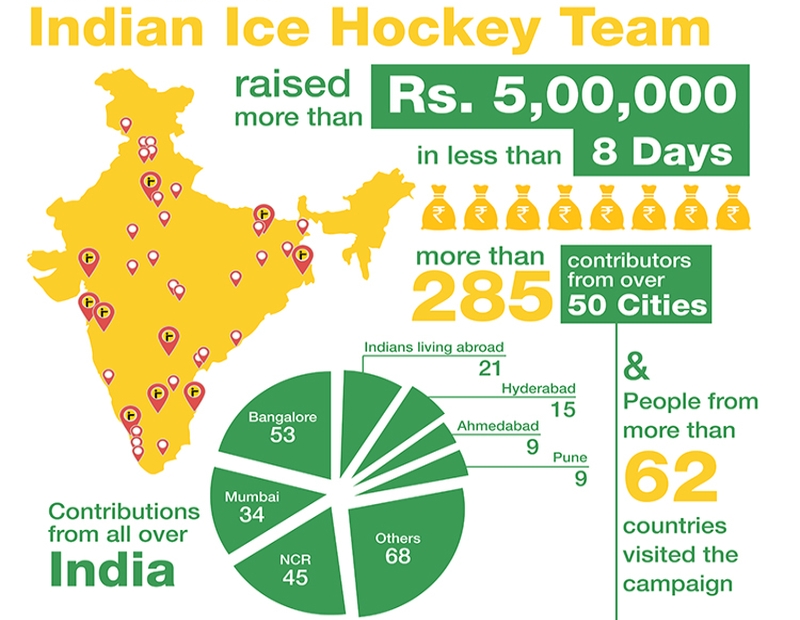 According to a recent survey, the top five categories that attract most funds are: business & entrepreneurship, social causes, films & performing arts, real estate and music & recording arts.
Each campaign/platform works on a different model as well-explained by the image below.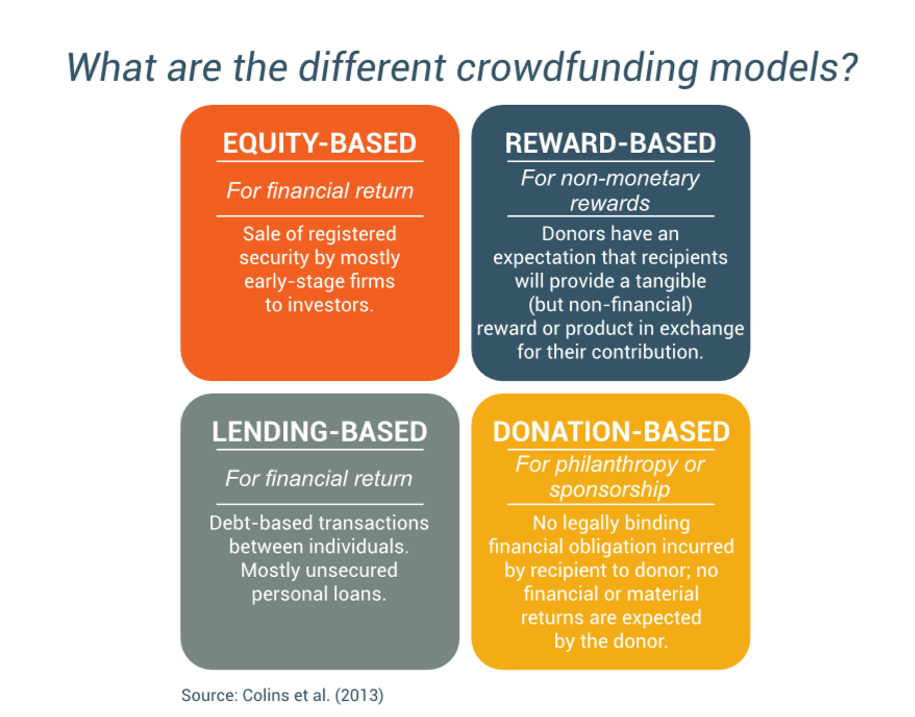 There are many crowdfunding platforms available today for different causes. Here is a list of the 15 most popular crowdfunding platforms in India (you should also know that some platforms earn a commission out of the contributions).
OUR SUCCESSFUL CROWDFUNDING STORY
On 3rd June 2017, after 34 days of admission at Bombay Hospital, our outstanding payment stood at 14,19,351.52 INR. Based on future treatment to be taken (at Bombay Hospital & TATA Hospital) we were anticipating a total expense of over 20 lakhs ONLY for medical purposes (what we spent on our own stay and food was besides this). While Ira showed minimal chances of recovery our medical expenses steadily climbed the spire. It was then that Tejas's long-time friend Chitan Siriya suggested that we start an online campaign on Crowdera. Starting a campaign on any platform is an easy-peasy method. Just click on 'start a campaign or fundraiser', provide a cause, write a short story about it giving details of the cause, input an amount you require and upload relevant documents and pictures.
We got a letter from the doctor stating further duration of treatment and built a summary of Ira's medical progress till date. You can still find details of the campaign here. Our estimate, going by the number of campaigns for medical causes, was that we would be able to raise somewhere between 5 to 8 lakhs. The entire campaign was handled by Tanmay. He even drafted a message and sent to his contacts on WhatsApp detailing the campaign.
The campaign was too successful! We were able to raise 109 % of what we asked for within 2 days! 419 people (friends, friends of friends, family and many unknown people) contributed funds for the cause, we closed the campaign 48 hours later and yet our phones kept ringing.  The WhatsApp message had almost gone viral, so much that the Crowdera executive had himself received it twice from two different sources. We had to send out a second message requesting people to STOP the contributions.
According to startups.com, the success of a crowdfunding campaign depends entirely on the ability to get the word out. The campaign's details were shared extensively on WhatsApp, over Facebook by friends on their walls and on pages and our dear friend Alisha (mommy blogger at https://twopurplelines.com/) shared it on her popular blog. The success of the campaign was covered in Pune Mirror by journalist Anupriya Chatterjee (who is a very sweet acquaintance now). This latter part was something that we had neither asked for nor wished for. As a family we had firmly decided not to 'market' either Ira's cuteness or her illness. For this same reason we declined coverage by Buzzfeed India and why you will never come across Ira's pictures or videos post-hospitalization.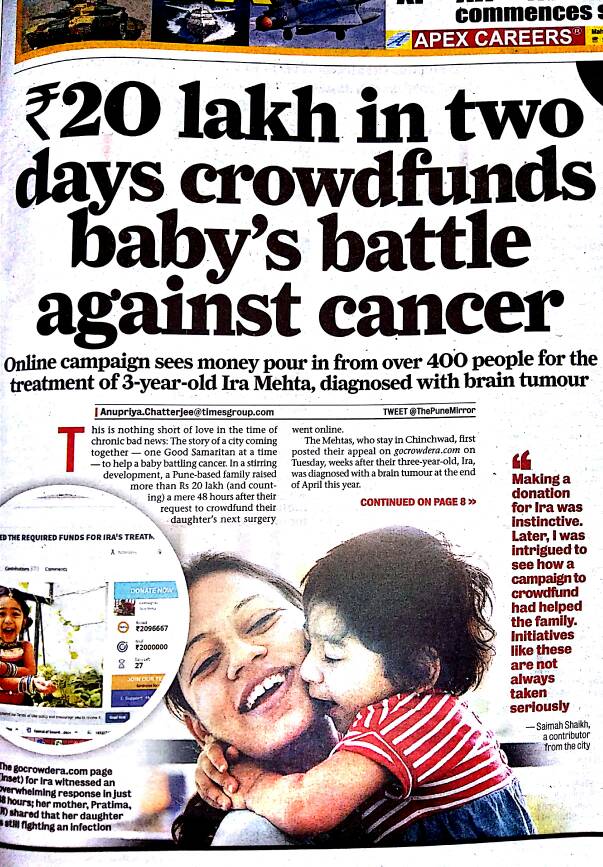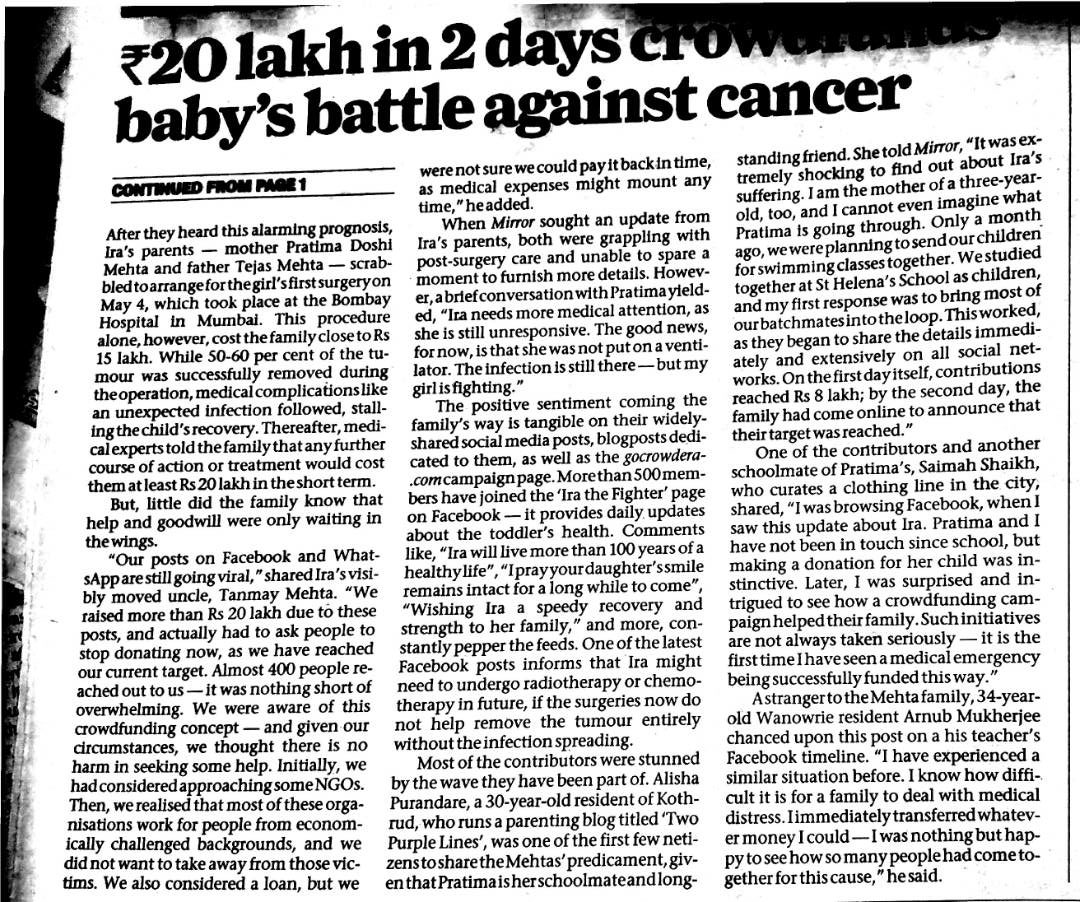 The campaign left us with; relief over the 20 lakhs in our bank account and a feeling of indebtedness. Taking money for any purpose, in kindness or not, did not sit well with any of us, especially Tejas. He went on to return the money to the donors who contributed above 5000 INR. Since November 2017, we've returned over 30% of the amount that was donated purely out of love and kindness of the known and unknown Samaritans.
INDIAN SCENARIO
Though quite popular in western countries, crowdfunding is still in its nascent stage in India. Here are a few points to note:
Equity and reward-based crowdfunding is not so popular. Equity fundraising is not legalized in India.
Crowdfunding is also subject to quackery. Some fake cases of raising funds have been reported.
While some still feel apprehensive about contributing funds online, there are others who set aside funds for monthly or yearly contributions to medical causes.
There is a personal thought here: Indians typically donate an 'undisclosed' amount to temples and worshipping places. Instead, why not contribute to a beneficial cause, why not help someone overcome an adversity, or why not help someone start a business or make a film? Think about it. The God/s will be happy with your kindness and bless you in abundance! Definitely a win-win!
---
Again, this post is absolutely for non-profit purposes and not meant to endorse any platform or concept. All opinions are mine and feel free to share yours in the comments below.